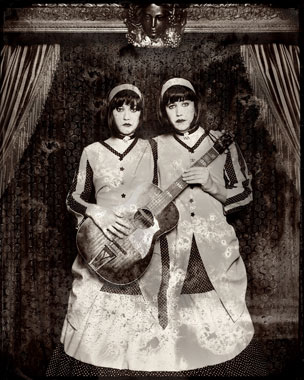 Photo by Scott Irvine


EVELYN and EVELYN NEVILLE are a songwriting duo performing original compositions on piano, ukulele, guitar and accordion. The sisters are parapagus tripus dibrachius twins, sharing three legs, two arms, three lungs, two hearts and a single liver.

Born September 11, 1985 on a small farm on the Kansas-Colorado border, the Evelyns have traveled the greater part of North America performing with "Dillard & Fullerton's Illusive Traveling Show".
Their unique musical style is inspired by their many eclectic influences - from 80's music to showtunes, Joy Division to the Andrews Sisters.

The sisters currently reside in Walla Walla, Washington. They are fluent in chicken and their favorite colors are purple and yellow.